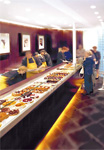 In Paris you can find some good pastry shops, but one has to mentionned specially, this is the pastry shop of the famous pastry chef Pierre Hermé.
Pierre Herme, as well known in Japan as in France (it was in Tokio where he opened this first pastry shop in 1998), creates pastry lines like Haute Couture.
He created a wide range of macaron flavors of various colours. He imagines new pastry lines twice a year, a spring/summer collection, and a fall/winter collection. If you have the opportunity to go there, try his famous pastry ISPAHAN ...